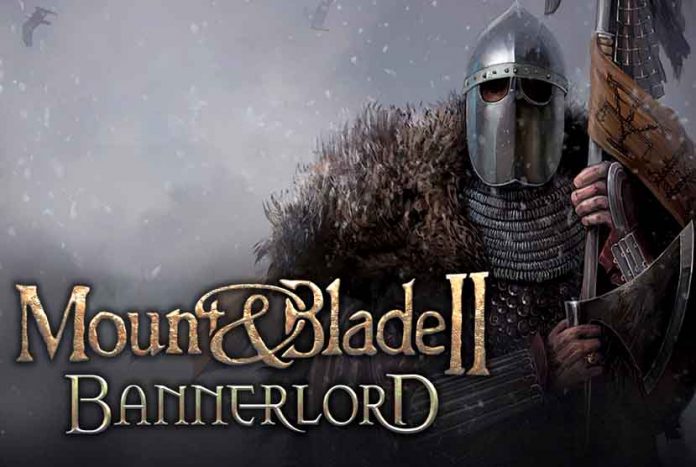 Mount & Blade II: Bannerlord Linux DXVK Wine – how to play this game on Linux.
Explore, raid and conquer your way across the vast continent of Calradia, making friends and enemies along the way. Raise your own army and lead it into battle, commanding and fighting alongside your troops in the thick of the action.
Play the game the way you want to play it! Plot your own path to power in a dynamic sandbox adventure where no two playthroughs are the same. Create and develop your own character to match your playstyle.
Progress skills by performing actions as you gain access to a selection of perks that represent your mastery of a talent. See the availability of goods ebb and flow in a simulated feudal economy, where the price of everything from incense to warhorses fluctuates with supply and demand.
Turn anarchy to your advantage by being the first to bring grain to a starving town after a siege or reopening a bandit-plagued caravan route. Put your tactical prowess and combat skills to the test against players from all over the world in a variety of different multiplayer game modes, ranging from small-scale skirmishes up to huge and epic sieges with hundreds of players.
Vanquish your foes using the game's deep and intuitive combat system that is easy to learn but difficult to master. Take to the field of battle and experience the brutality of medieval combat in first or third person perspective with hundreds of on-screen units, each with their own detailed AI.
Customise the game to experience an entirely different adventure of your own creation. The engine and tools used to develop Mount & Blade II: Bannerlord are being made available to the community, so that modders can re-interpret Calradia or create their own worlds!
Mount & Blade II: Bannerlord Linux DXVK Wine – how to play this game on Linux.
Although the first part of Mount & Blade had a native version, for now it's successor Mount & Blade II: Bannerlord does not. There is hope though for the developers promised to look for a native Linux version when all the problems with the Windows release are fixed. Until then we can play the Windows version perfectly well. Read on to learn how.
For this game you'll need a custom Proton build, DXVK, optionall .Net Framework 4.8 and a small tweak in one of the game's config files.
The custom Proton build is needed for a bug with a mouse input. You can download the custom Proton build from here. If you are using Steam, extract the archive to:
cd ~/.steam/root/compatibilitytools.d
Restart Steam and right-click Bannerlord in your library, click Properties, and change the Proton version to ".proton_5.0-local".
Keep in mind the fix for the mouse input is already in Wine-Staging and if you have the skills, you can compile it. It will be included in feature Wine-Staging versions and may be soon it'll be in official Proton too.
Now you have to install DXVK. For DXVK installation you can follow our tutorial here. After this steps the game should run but in the initial brightness config menu there will be no mouse input. You can easily fix this by going to:
/steamuser/My Documents/Mount and Blade II Bannerlord/Configs/
and open engine_config.txt with a text editor. Change brightness_calibrated = 0 to brightness_calibrated = 1. Save and close.
If you have problems with very long save times, there is a fix. You have to install .Net Framework 4.8. Open your terminall and copy&paste the following command:
wineticks -q dotnet48
Or if you are using Steam:
protontricks 261550 dotnet48
Please be prepared for a long installation, so be patient.
If you want you can use ESync for an additional performance boost.
That's it! Now you can play Mount & Blade II: Bannerlord on Linux too!
Wine version used in the video: Custom Proton build 5.0 with ESync enabled.
DXVK version: 1.6
Link to the official DXVK project site – here.
For any questions don't hesitate to use the comments section bellow.