Red Dead Redemption 2 Linux Wine – how to play this game on Linux.
America, 1899.
Arthur Morgan and the Van der Linde gang are outlaws on the run. With federal agents and the best bounty hunters in the nation massing on their heels, the gang must rob, steal and fight their way across the rugged heartland of America in order to survive. As deepening internal divisions threaten to tear the gang apart, Arthur must make a choice between his own ideals and loyalty to the gang who raised him.
Red Dead Redemption 2 Linux Wine – how to play this game on Linux.
Do you want to play Red Dead Redemption 2 on Linux? Have your friends told you they can't migrate to Linux because this game doesn't work? This is no longer true and in fact it works better than on Windows, which is already becoming a tradition. Keep reading to find out how to play Red Dead Redemption 2 on Linux.
For this game you'll need a special Proton build with seccomp fixes. We have it thanks to the CrossOver developer Brandon (mrpippy). You can download it directly from Codeweavers here. The archive password is public.
Now quit Steam, extract the archive in:
~/.steam/steam/compatibilitytools.d/
Then start Steam again, right click on Red Dead Redemption 2 on your Steam Library and choose Properties->"Force the use of a specific Steam Play compatibility tool" and choose "proton_5.0-rdr2-4".
If you started the game in the past, delete any previous compatdata for the game. This would usually be at:
~/.steam/steam/steamapps/compatdata/1174180/
The game uses technologies available in the newest Linux drivers.
If you are with Nvidia video card, for now it's recommended to update them to the beta 440.66.15 driver to avoid very poor performance.
For AMD you should use Mesa Git or AMDVLK-PRO. If you choose AMDVLK-PRO, you have to use the following Steam launch command:
VK_ICD_FILENAMES=/usr/share/vulkan/icd.d/amd_icd64.json WINEDLLOVERRIDES=dxgi=n,b %command%
If the game doesn't work for you, you can try the following Steam launch commands:
WINEDLLOVERRIDES=dxgi=n,b %command%
or
WINEDLLOVERRIDES="dxgi=n,b" taskset -c 0-7 %command%
or
PROTON_USE_WINED3D=1 %command%
With one of this commands the game should start.
UPDATE!!!
With the newer versions of the game you have to issue the following command in terminal after the game have been started:
PID=$(pgrep RDR2.exe); kill -s SIGSTOP $PID; kill -s SIGCONT $PID
Known issues
only 720p and 1080p resolutions are available.
you may get an Activation Error on the first launch or two, but it should go away after a relaunch.
you will get a Minimum Hardware Requirements Check dialog on launch, click OK to ignore it.
That's it. Now you can play Red Dead Redemption 2 on Linux!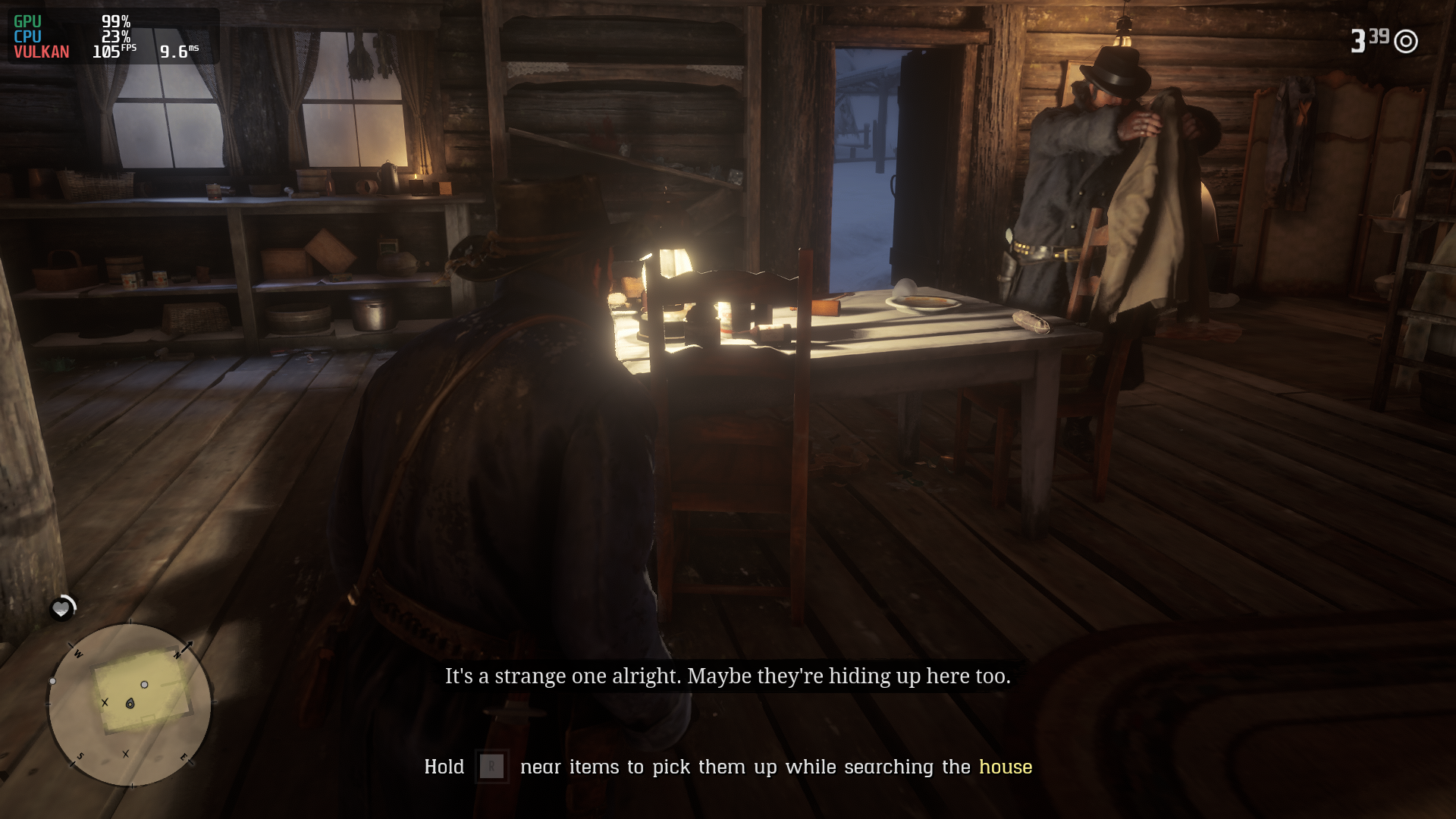 Wine version used in the video: proton_5.0-rdr2-4 with ESync enabled.
For any questions, don't hesitate to use the comments section bellow.